If you recall, a few months ago during our move into our new home, I fell down the only step in our house and broke my ankle. What I didn't tell you about this injury was how embarrassing the next few months of recovery would be…
Why was it so embarrassing???
Because my upper body strength was so weak! Getting out of the tub was impossible and I had to finally break down and ask my NEW hub to help lift my fat arse out that first morning. I couldn't even use the crutches to get around as my arms were way too sore from using them just one day. I eventually had to rent an ankle scooter to get around. TOTALLY embarrassing!
I never realized, until I was put into the position with a broken ankle, just how much I'd let my upper body strength go. I looked in the mirror and saw my batwing arms flap back and forth that night and knew I had to take some action right away! 🙁
That's when I remembered about Coach Abbey who ran an Amazing Arms Challenge that I had enrolled in two years ago. I started doing the exercises again day by day and low and behold my upper body strength got much stronger. And YES, I can now lift myself up now out of the bathtub (without using my legs). I have strong arms!!! 😉
If you want to tone your arms this summer and can spare just 10 minutes a day then I want to encourage you to JOIN Coach Abby and the Trainer In Your Back Pocket® Tribe for a 20-day Amazing Arms Challenge!
For 20 days this August, you will receive an Upper Body workout video to help you strengthen and tone your arms, shoulders, chest, and back muscles!
It's an awesome upper body exercise challenge that will make your arms look amazing this coming August. I hope you'll join me in this challenge. I'm so excited to do it again and keep these arms in tip-top toned shape!
Register here today and you'll also receive LIFETIME ACCESS to Amazing Arms August.
I even have a coupon code for you to save $20. Use coupon code: ARMSVA20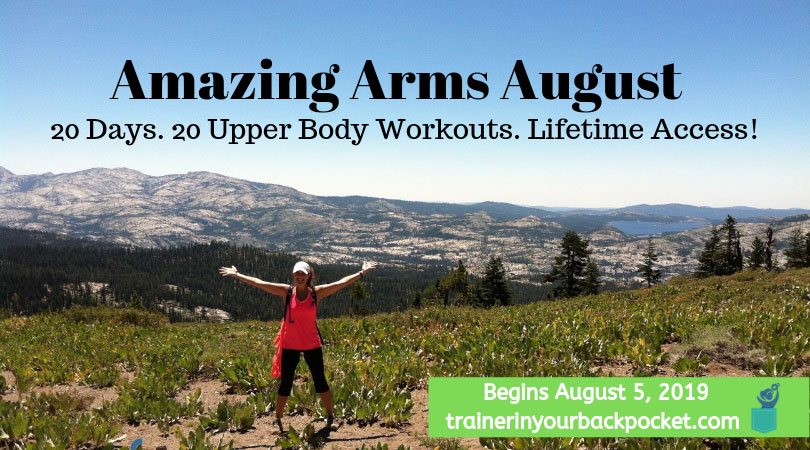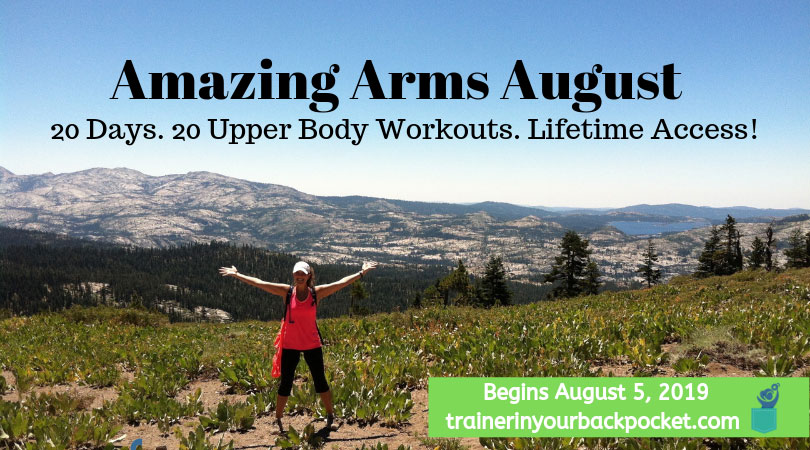 Here are all the details of this fun challenge:
Challenge begins on August 5, 2019.
Workouts will be uploaded Monday-Friday, giving you weekends to catch up on anything you may have missed during the week.
All Trainer In Your Back Pocket Members get access for free.
The workouts will be a selection of Abby's favorite Weekly Workout Videos from the Trainer In Your Back Pocket program over the past 7 years, including "Full-On-Fitness Fridays" which are full length (20-30 minute) upper body workouts!
Not only will you be able to log in to see your daily workout, but you'll receive 1 daily email (it'll be in your inbox before you wake up!) with your daily upper body workout/challenge!
Most workouts will take between 5-10 minutes. Full-On-Fitness Fridays will take 20-30 minutes.
Connect with other Amazing Arms participants during the challenge in our private Amazing Arms August Facebook Support Group!
Minimal equipment needs: dumbbells and a tubing band.
Even if you don't decide to do the challenge pop over to Abby's site and do the FREE Upper Body Workout video she has on her website. I did 2 sets of it today. Somedays I will just do this workout as I find it really works my arms and upper body.
Hope to see you in the Amazing Arms Challenge in August!
Register here today Use coupon code: ARMSVA20 to receive $20 OFF.